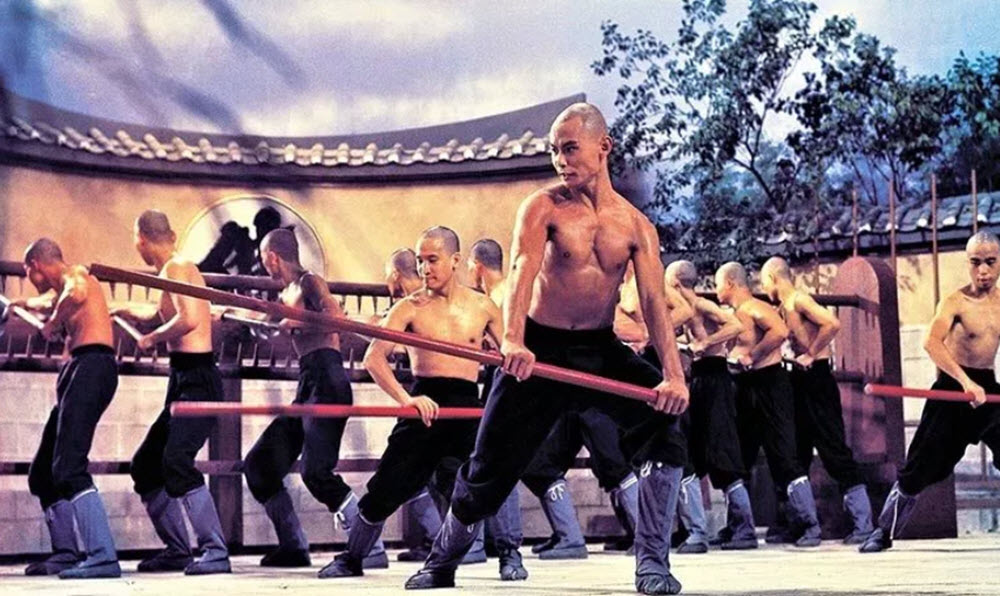 The 36th Chamber of Shaolin is a Hong Kong kung fu movie starring Gordon Liu, who plays a fictionalized version of the legendary Shaolin monk San Te (birth name: Liu Yude) who trained under General Chi Shan.
In the movie, the young student Liu Yude participates in a rebellion that is quickly and violently quenched by the Manchu government. After his loved ones has been killed and his school liquidated by the authorities, the injured Liu Yude seeks out a Shaolin temple to learn kung fu and thus be better equipped to get revenge and ensure the liberation of his people.
Launched in 1978, the 36th Chamber of Shaolin is today widely hailed as one of the best kung fu films of all time and it has had a huge influence on the genre. For the director Liu Chia-liang, it proved to be a huge break-through and career turning point.
Cast
Student Liu Yude/Monk San Te is played by Liu Chia-Hui
General Tien Ta is played by Lo Lieh
Rice Miller Six is played yed by Wang Yu
Hung Hsi-Kuan is played by Yu Yang
Lu Ah Tsai is played by Hsu Shao-Chiang
Tung Chien-Ching is played by Wu Hang-Sheng
Abbot of Justice Office is played by Hoi Sang Lee
Trailer
Basic facts about the movie
Title
Traditional: 少林三十六房

Simplified: 少林三十六房

English title
The 36th Chamber of the Shaolin
Country
Hong Kong
Language
Mandarin
Released in
1978
Lenght
1 hour and 55 minutes
Producer
Mona Fong
Run Run Shaw
Production company
Shaw Brothers
Directed by
Liu Chia-Liang
Written by
I Kuang
Music by
Chen Yung-Yu
Cinematography
Huang Yeh-tai
Edited by
Geung Hing Lung
Li Yen-Hai
Distributed by
Shaw Brothers Studio
United States:World Northal (dubbed)
Dragon Dynasty (DVD)
Starring
Gording Liu
Lo Lieh
Other titels
The movie is known under several alternative titles, including The Master Killer and Shao Lin Shi Liu Fang. In 2000, Crash Cinema Media released it on DVD with the title Shaolin Master Killer.
Trivia
The matrial arts expert and actor Gordon Liu's (also known as Lau Ka-fai) who had the lead role in The 36th Chamber of Shaolin also played two roles in Quentin Tarantino's Kill Bill films. In Kill Bill Volume 1 (2003), he plays Johnny Mo, leader of the Yakuza gang Crazy 88. In Volume 2 (2004), we see him kung fu master Pai Mei.
The 36th Chamber of Shaolin spawned the sequal Return to the 36th Chamber (1980), which was much more comedic. It was followed by Disciples of the 36th Chamber in 1985.
The 36th Chamber of Shaolin movie inspired the name of the Wu Tang Clan debut album "Enter the Wu-Tang (36 Chambers)".