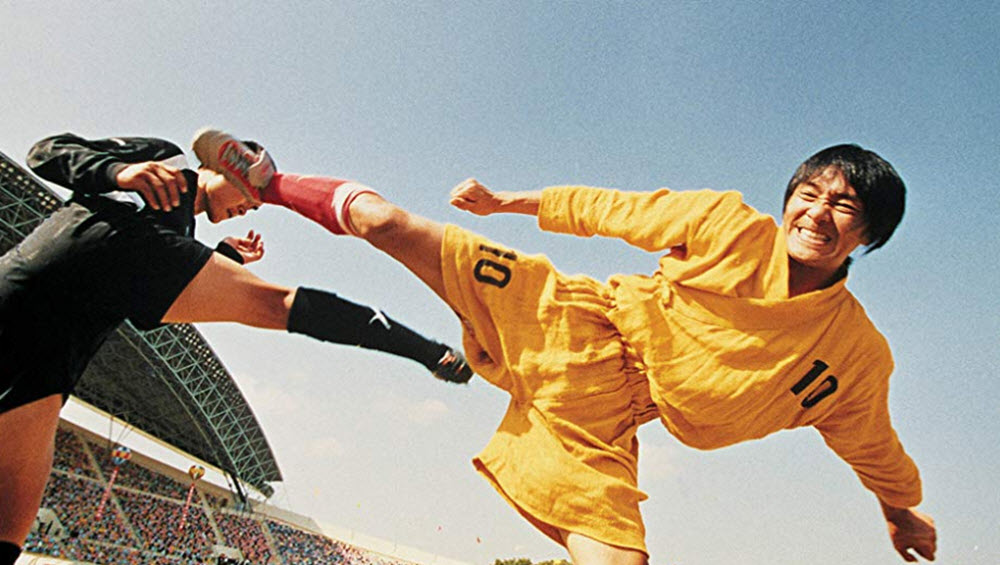 Shaolin Soccer (少林足球) is a 2001 martial arts comedy movie about a team of martial arts experts who use their skills to play football (soccer), while also promoting Shaolin kung fu to the masses.
The movie was directed by Stephen Chow, who was also a co-writter, and played the leading role of Shaolin kung fu master and football striker Mighty Steel Leg Sing.
The story revolves around Sing, a Shaoline kung fu master who wish to find a way to promote the spiritual and practical benefits of kung fu in modern society. Finally, he is compelled by the idea of using football to promote kung fu, and coaxes his former Shaolin brothers to help him form a team. Together, they take on Team Evil, a super-doped football team owned by the currupt businessman Hung.
The movie was both a box office succes in Hong Kong and got fine reviews by most critics. The film holds a 91% approval rating at Rotten Tomatoes and has a 68/100 score on Metacritic.
Shaolin Soccer grossed over HK$60,7 million at Hong Kong box office, making it the highest-grossing film in the region's history at the time. (In 2004, the record was broken by Stephen Chow's movie Kung Fu Hustle.) Worldwide, Shaolin Soccer grossed US$42,776,760.
The Chinese authorities banned Shaolin Soccer from cinnemas and DVD/VCD, because Stephen Chow did not apply for permission for public screenings in Hong Kong.
Trailer
Cast
Actor
Character
Info
Stephen Chow
Mighty Steel Leg Sing
Shaolin kung fu expert

Soccer striker

Ng Man-tat
Golden Leg Fung
Played soccer in the 1980s, is now crippled
Wong Yat-fei
Iron Head
The oldest of the Shaolin brothers

Specializes in headers during soccer games

Mok Mei-lam
Hooking Leg
The second Shaolin brother

His skills resembles ground tumbling boxing

Tin Kai-man
Iron Shirt
The third Shaolin brother

Can absorb blunt force attacks without much injury

Can shoot the ball using his stomach

Danny Chan Kwok-kwan
Empty Hand Lightning Hand
The fourth Shaolin brother

Resembles Bruce Lee

Extremely fast hands

Lam Chi-chung
Light Weight Vest
The sixth Shaolin borther

Can jump extremely high

Zhao Wei
Mui
Baker and tai chi expert

Sing's love interest

Patrick Tse
Hung
Team Evil's coach

Corrupt businessman

Golden Leg Fung's former team mate

Shik Zi-yun
No. 9
Team Evil's striker

Can back flip, soar into the sky and kick a fiery ball

Cao Hua
No. 21
Team Evil's goalkeeper

Increadibly strong hands

Cecilia Cheung
No.7
Team Dragon player

Can run very fast

Karen Mok
No.11
Team Dragon player

Can run very fast

Fung Min-hun
Captain of Team Rebellion
Captain of Team Rebellion

Vicious mobster

Fights using a crescent wrench and a steel mallet.

Vincent Kok
Captain of Team Tofu
Captain of Team Tofu
Basic info about the movie
| | |
| --- | --- |
| Chinese title | 少林足球 |
| English title | Shaolin soccer |
| Country | Hong Kong |
| Language | Cantonese |
| Lenght | 1 hour and 52 minutes |
| Budget | 10 million USD |
| Box office | 42.8 million USD |
Behind the scenes
Producer
Yeung Know-Fai
Production company
Star Overseas Ltd

Universe Entertainment Ltd

Director
Stephen Chow
Written by
Stephen Chow

Tsang Kan-cheung

Music by
Lowell Lo

Raymond Wong

Cinematography
Kwen Pak-Huen

Kwong Ting-wo

Edited by
Kai Kit-Wai
Distributed by
Universe Entertainment Ltd

Miramax Films
Starring
Stephen Chow
Zhao Wei
Ng Man-tat
Patrick Tse
Danny Chan Kwok-kwan
Examples of awards won
Blue Ribbon Award for Best Foreign Language Film.
38th Golden Horse Awards for Best Action Choreography and Best Visual Effects.
7th Golden Bauhinia Awards in the categories Best Picture, Best Director, and Best Supporting Actor.
Hong Kong Film Critics Society Award for Best Picture.
21st Hong Kong Film Awards in seven categories:
Best Picture
Best Director (Stephen Chow)
Best Young Director (Stephen Chow)
Best Actor (Stephen Chow)
Best Supporting Actor (Wong Yat-fei)
Best Sound Effect (Kinson Tsang)
Best Visual Effect (Frankie Chung, Ken Law, and Ronald To)