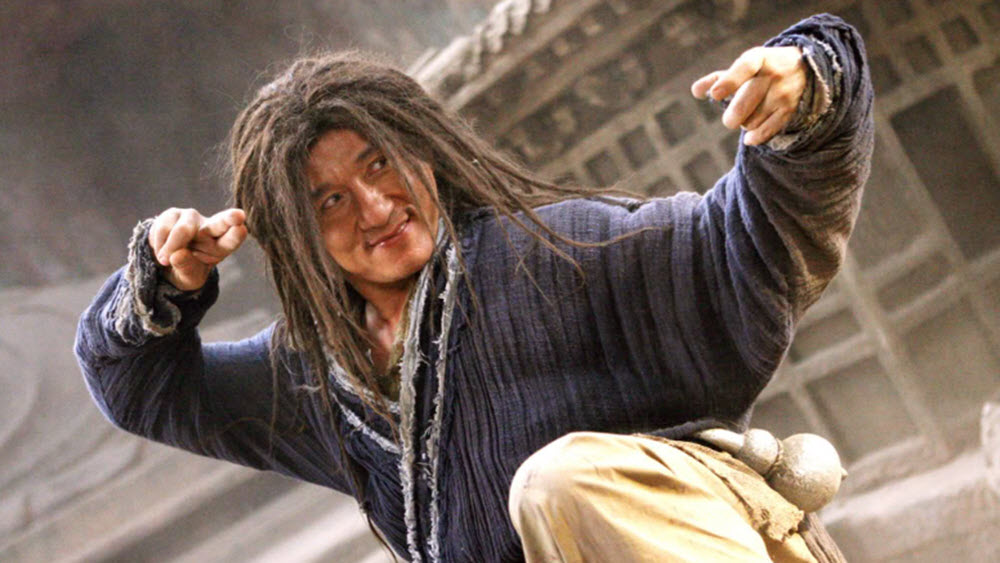 Drunken Master is a 1978 Hong Kong martial arts comedy starring Jackie Chan, Simon Yuen Siu-Tin, and Hwang Jang-Lee. The Chinese name of the movie is 醉拳, which means drunken fist.
The lead character in the movie is the mischievous young man Wong Fei-hung (Jackie Chan) who has a neck for getting into trouble. He is trained by the martial arts teacher Beggar So (Yuen Siu-Tin), who is a skilled practicioner of secret martial arts style called The Eight Drunken Immortals.
The movie was a great success in Hong Kong, earning HK$6,763,793 at the Hong Kong box office and becoming the second most watched movie in Hong Kong theaters in 1978.
Drunken Master is an early example of the movie genre "comedic martial arts" for which Jackie Chan would became famous world-wide.
On GameRadar.com's list of the 25 greatest kung fu movies of all time, Drunken Master sits at spot #3.
Trailer
Cast
| | | |
| --- | --- | --- |
| Actor | Character | Info |
| Jackie Chan | Wong Fei-hung | In the UK version of the movie, he's called Freddy Wong. |
| Yuen Siu-Tin | Beggar So | In some versions, he is called Sam Seed. |
| Hwang Jang Lee | Thunderleg Yen Tie Hsin | Also known as Thunderfoot |
| Dean Shek | Professor Kai-Hsin | |
| Lam Kau | Wong Kei-Ying | Known as Robert Wong in the UK version. |
| Fung King-man | Mr. Lee Man-ho | |
| Hsu Hsia | King of Bamboo Hsu Ching-tien | |
| Linda Lin | Wong Fei-hung's aunt | |
| Tong Jing | Wong Fei's cousin | |
| Yuen Shun-yi | Chan Kwok-wai | In some versions of the movie, he is called Charlie Wei |
| Tino Wong | Jerry Lee | |
| Yuen Woo-Ping | Man with bucket of greens | |
Background
Wong Fei-hung is the name of a Chinese folk hero from the late Qing Dynasty era. He was a martial arts expert, Chinese medicine practicioner and revolutionary.
Beggar So, or rather So Chan, is also a Chinese folkhero. His nickname is So Hut-yee, which means Beggar So. He was one of the Ten Tigers of Canton, a group of ten Chinese martial arts experts from the Guangdong Province who lived around the 19th century BC. They were said to be the best fighters in southern China, and (probably highly embellished) stories about them have been passed down from generation to generation.
Basic info about the movie
| | |
| --- | --- |
| Titel | 醉拳 |
| English titel | Drunken Master |
| Country | Hong Kong |
| Language | Cantonese |
| Release date | 5 October, 1978 |
| Lenght | 1 hour and 50 minutes |
| Box office | HK$6,763,793 |
Behind the scenes
Director
Yuen Woo-Ping
Producer
Ng See-Yuen
Written by
Siao Lung
Ng See-Yuen
Music by
Chow Fu-liang
Cinematography
Chang Hui
Edited by
Pan Hsiung
Distributed by
Seasonal Film Corporation

Destination Films
Starring
Jackie Chan
Yuen Siu-tien
Hwang Jang-lee
Dean Shek
Trivia
In his book "I Am Jackie Chan: My Life in Action", Chan revealed that his brow ridge was seriously injured during the filming of Drunken Master and there was a risk of him losing the eye.
The PlayStation Game "Jackie Chan Stuntmaster" includes a bonus level where Chan wears the Drunken Master dress and drinks wine while fighting.