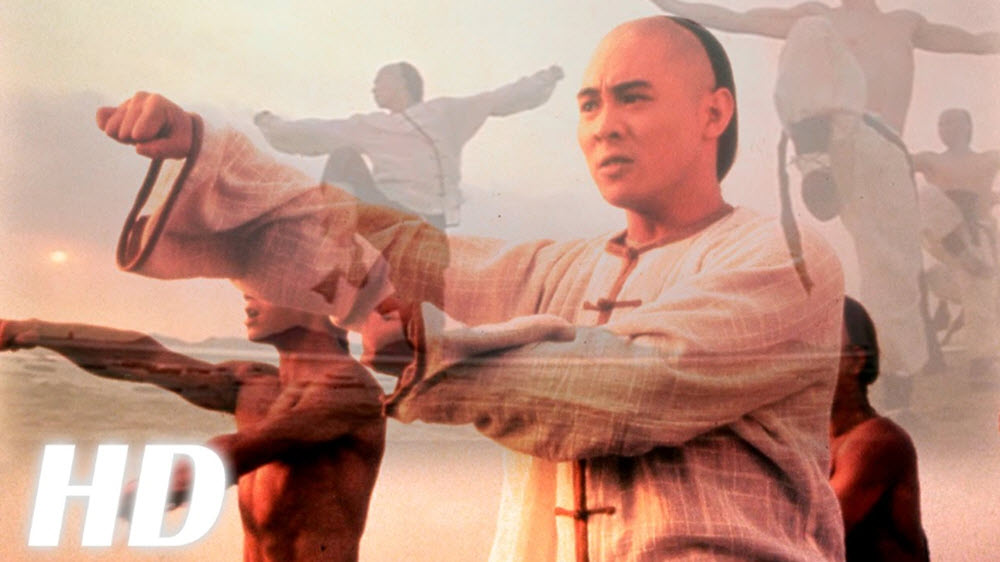 Once Upon a Time in China is a 1991 Hong Kong-Chinese martial arts film starring Jet Li as the folk hero and martial arts master Wong Fei-hung.
Released in Hong Kong on 15 August, 1991, the film became a box office hit and ran for almost two months, grossing just shy of $30 million HKD in Hong Kong. Movie critics in and outside Hong Kong has given it highly favorable reviews, and it holds a score of 88% fresh on Rotten Tomatoes. At the 11th Hong Kong Film Awards, it won the categories Best Director, Best action Choreography, Best Film Editing, and Best Original Film Score. It was also nominated for Best Film, Best Supporting Actor (Jacky Cheung), Best Cinematographer, and Best Art Direction.
The film is largely credited for launching the period martial arts trend of the 1990s, and it spawned five sequels:
Once Upon a Time in China II (黃飛鴻之二男兒當自強) (1992)
Once Upon a Time in China III (黃飛鴻之三獅王爭霸) (1993)
Once Upon a Time in China IV (黃飛鴻之四王者之風) (1993)
Once Upon a Time in China V (黃飛鴻之五龍城殲霸) (1994)
Once Upon a Time in China and America (黃飛鴻之西域雄獅) (1997), also known as Once Upon a Time in China VI
About the movie
The film is set during the late 1800s in the river port city Foshan (Fatshan), widely is regarded as the home of the Cantonese version of kung fu, lion dance, and Chinese opera.
The hero of the story is martial arts master and medical man Wong Fei-Hong (played by Jet Li), who runs a martial arts school in a China that is sererely damaged by the Opium Wars, threatend by both European and United States imperialism, festered with governmental curruption and Chinese crime syndicates, and on the verge of the Boxer Rebellion.
Fei-Hong must protect the common people from all these harmful forces, while also sorting out his romantic feelings for a woman who is his adopted aunt and thus as a forbidden love in traditional Chinese society.
The movie was written for a Hong Kong audience that was assumed to be familiar with both the folk hero Fei-Hong and this particular epoch of Chinese history, so if you are none of these things, certain aspects of the movie might be lost to you – but the film is still highly enjoyable in its own right.
One of the main themes of the movie is the tension between traditional Chinese culture and way of life, and all the modern influences that are flowing in from abroad. One symbol of this is the introduction of Western guns and their impact on the usefulness of traditional Chinese martial arts such as kung fu.
The movie became a big acting break-through for the Chinese wushu champion Jet Li. Back in 1991, there were no Matrix-era technical tools to help with the fighting scenes, so having a proper martial arts expert like Li in front of the camera was essential.
Trailer
Basic facts about the movie
English title
Once Upon a Time in China
Chinese title
Traditional: 黃飛鴻

Simplified: 黄飞鸿

Country
Hong Kong China
Language
Cantonese
Mandarin
English
French
Length
2 hours and 14 minutes
Release date
15 August, 1991
Box office
HK$29,672,278
Behind the scenes
Production company
Golden Harvest (

嘉禾娛樂事業集團有限公司)

Paragon Films

Film Workshop (电影工作室)

Producer
Tsui Hark
Director
Tsui Hark
Written by
Tsui Hark
Yuen Kai-chi
Leung Yiu-ming
Elsa Tang
Screenplay by
Music by
James Wong

George Lam (theme song)

Cinematography
Ardy Lam
Bill Wong
David Chung
Arthur Wong
Wingo Chan
Wilson Chan
Editor
Marco Mak
Distributed by
Golden Harvest (

嘉禾娛樂事業集團有限公司)
Starring
Starring
Jet Li
Yuen Biao
Jacky Cheung
Rosamund Kwan
Kent Cheng
C

ast
Jet Li as Wong Fei-hung (with stunts by Hung Yan-yan)
Rosamund Kwan as Yee Siu-kwan (13th Aunt)
Yuen Biao as Leung Foon
Jacky Cheung as So Sai-man ("Bucktooth" So)
Kent Cheng as Lam Sai-wing ("Porky Wing")
Yuen Kam-fai as Ling Wan-kai ("Kai")
Yen Shi-kwan as "Iron Vest" Yim
Yuen Cheung-yan as "Iron Vest" Yim's opponent
Jonathan Isgar as Jackson
Steve Tartalia as Tiger
Mark King as General Wickens
Lau Shun as Liu Yongfu
Yau Kin-kwok as Tong (the Shaho Gang Leader)
Hung Yan-yan as a member of the Shaho Gang
Wong Chi-yeung as the Governor
Jimmy Wang as an escaped labourer
Wu Ma as Granduncle Cheung (cameo)
Shih Kien as old man who gives advice (cameo)
Simon Yam (cameo)