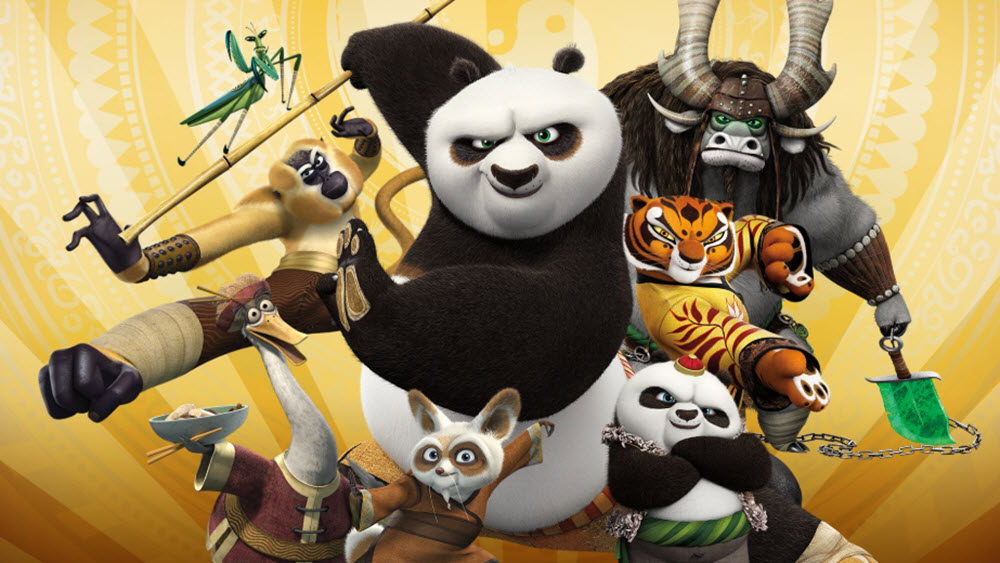 Kung Fu Panda is a computer-animated comedy martial arts film produced by DreamWorks Animations. It premiered in 2008 and received both positive reviews and a #1 spot at the box office for its opening weekend.
The story, which is a classic hero's journey and coming of age kind of story, is set in DreamWorks's version of ancient China, a world populated by anthropomorphic talking animals. Production designer Raymond Zibach said in an interview that some of the biggest influences for him when working on the movie were artful martial arts films such as Hero, House of Flying Daggers and Crouching Tiger, Hidden Dragon.
The main character in the movie is a clumsy giant panda named Po, who runs a noodle restaurant with his adopted father, a goose named Ping. The bambling Po is a big fan of kung fu and wants to become a kung fu master. To everyones surprise, Grand Master Oogway claims that Po is the chosen one; the Dragon Warrior that will save them when the vicious kung fu warrior Tai Lung escapes from prison to seek revenge.
Upon release, the movie showcased he most complex computer animations ever creeated by DreamWorks.
Kung Fu Panda opened in over 4,100 theatres and grossed well over $20 million on its opening day and over $60 million during its opening weekend, reaching the #1 position at the box office. This was DreamWorks largest opening for a non-sequel movie, and it became the highest grosing animated movie worldwide that year.
Trailer
Main cast
Character
Voiced by
Info
Po
Jack Black
A giant panda

Energetic and accident-prone. Big fan of kung fu. Named by Master Oogway as the Dragon Warrior.

Master Shifu
Dustin Hoffman
A red panda.

An elderly kung fu master.

Trainer of the Furious Five, and – reluctantly – also the trainer of Po.

Adoptive father of Tai Lung and Tigress.

Grand Master Oogway
Randall Duk Kim
A Galápagos tortoise.

Very old.

Master Shifu's mentor.

Leader of the Jade Palace.

Tai Lung
Ian McShane
A snow leopard

Master Shifu's adopted son and former student.

Was denied the Dragon Scroll by Oogway and rampaged through the Valley of Peace. Sent to prison, but has now escaped and is looking for revenge.

Master Tigress
Angelina Jolie
A South China tiger

Master Shifu's adopted daughter and student.

Leader of the Furious Five.

Master Viper
Lucy Liu
A green tree viper

Member of the Furios Five

Master Monkey
Jackie Chan
A golden snub-nosed monkey

Member of the Furious Five

Master Mantis
Seth Rogen
A Chinese mantis

Member of the Furious Five

Master Crane
David Cross
A red-crowned crane

Member of the Furious Five

Mister Ping
James Hong
A Chinese goose

Po's adoptive father

Runs a noodle restaurant with Po

Zeng
Dan Fogler
A Chinese goose

Master Chifu's messenger

Commander Vachir
Michael Clarke Duncan
A Javan rhinoceros

Warden of the prison where Tai Lung was held.
The Furious Five characters – Viper, Monkey, Mantis, Tigress, and Crane – are homages to the five styles of Chinese martial arts: Snake, Monkey, Praying Mantis, Tiger, and Crane.
Basic facts about the movie
Country
USA
Language
English
Length
1 hour and 32 minutes
Release date
Cannes Film Festival: May 15, 2008

United States: June 6, 2008

Budget
$130 million
Box office
$631.7 million
Behind the scenes
Production company
DreamWorks Animation
Producer
Melissa Cobb
Directors
John Stevenson
Mark Osborne
Story by
Ethan Reiff
Cyrus Voris
Screenplay by
Jonathan Aibel
Glenn Berger
Music by
Hans Zimmer
John Powell
Cinematography
Yong Duk Jhun
Editor
Clare Knight
Distributed by
Paramount Pictures
Starring
Starring
Jack Black

Jackie Chan
David Cross

Michael Clarke Duncan

Dan Fogler

Dustin Hoffman
James Hong

Angelina Jolie
Randall Duk Kim

Lucy Liu

Seth Rogen

Ian McShane