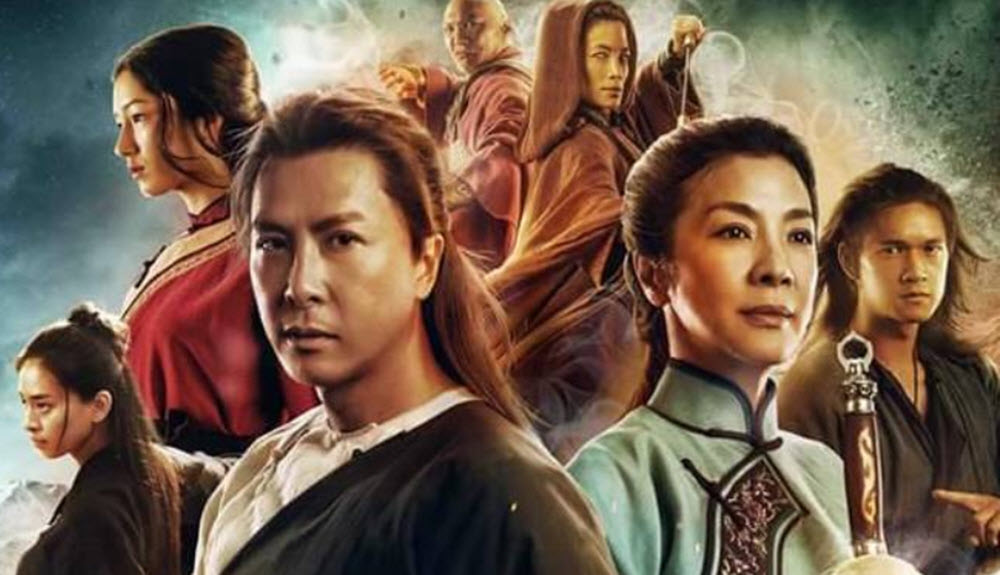 Premiered in the year 2000, Croaching Tiger, Hidden Dragon ( 臥虎藏龍 ) is a wuxia film conceived and directed by Ang Lee, loosely based on a Chinese novel written by Wang Dulu.
The movie features an international cast of Chinese-speaking actors, including Chow Yun-fat, Michelle Yeoh, Zhang Ziyi, and Chang Chen. The dialog is in Mandarin.
Croaching tiger, hidden dragon became a huge success even outside the Mandarin-speaking audiences, and grossed over 213 million USD worldwide, including $128 million in the United States where it became the highest-grossing non-English language film produced overseas in U.S. history. The movie helped boost international interest in a new wave of high-budget vuxia films, and led to films such as Hero (2002) and House of Flying Daggers (2004) being marketed toward non-Chinese audiences.
Croaching tiger, hidden dragon was nominated for ten Academy Awards and won four of them, including Best Foreign Language Film. The film also four BAFTAS (including Best Director) and two Golden Globe Awards.
Film Journal noted that Crouching Tiger, Hidden Dragon "pulled off the rare trifecta of critical acclaim, boffo box-office and gestalt shift", in reference to its ground-breaking success for a non-English language film on the U.S. market.
Background
The movie is loosely based on the novel 臥虎藏龍 (Crouching Tiger, Hidden Dragon) by Wang Baoxiang (1909-1977), pen name Wang Dulu. This novel is the fourth one in a series of five written by him, collectively known as the Crane Iron Series.
The name Crouching Tiger, Hidden Dragon is a literal translation of the Chinese idiom 臥虎藏龍, which describes a situation that is full of unnoticed masters. It comes from a poem of the ancient Chinese poet Yu Xin, who lived in 513-581 AD.
The last character in Xiaohu and Jiaolong's names mean "Tiger" and "Dragon", respectively.
Plot
The film is set in China during the 18th century.
Li Mu Bai, a skilled swordsman, and Yu Shu Lien, the boss of a private security company, have romantic feelings for each other, but refrain from acting upon them due to their loyalty to the dead Meng Sizhao – who was Bai's best friend and Lien's fiancé.
When Bai decides to retire, he asks Lien to give his sword Green Destiny to their benefactor Sir Te in Beijing. While at Sir Te's place in Beijing, the Green Destiny is stolen, and Bai and Lien traces the theft to Governor Yu's compound, where they also encounter Jade Fox – the woman who murdered Bai's master many years ago.
Bai and Lien must now both avenge Bai's master and get the Green Destiny back, and in the process, many old secrets are unveiled.
Trailer
Cast
Chow Yun-fat as Li Mu Bai
Michelle Yeoh as Yu Shu Lien
Zhang Ziyi as Jen Yu
Chang Chen as Lo "Dark Cloud"
Cheng Pei-pei as Jade Fox
Sihung Lung as Sir Te
Li Fazeng as Governor Yu
Gao Xi'an as Bo
Hai Yan as Madam Yu
Wang Deming as Police inspector Tsai / Prefect Cai Qiu
Li Li as May (the daughter of Tsai)
Huang Suying as Aunt Wu
Yang Rui as Maid
Li Kai as Gou Jun Pei
Feng Jianhua as Gou Jun Sinung
Ma Zhongxuan as Mi Biao
Li Baocheng as Fung Machete Chang
Yang Yongde as Monk Jing
Zhang Shaocheng as Nightman
Basic facts about the movie
Chinese titel
Traditional Chinese:

臥虎藏龍

Simplified Chinese: 卧虎藏龙

English titel
Crouching Tiger, Hidden Dragon
Release dates

July 6, 2000 (Hong Kong)
July 7, 2000 (Taiwan)
December 8, 2000 (United States)

Country
China

Hong Kong

Taiwan

United States

Language
Mandarin Chinese
Lenght
2 hours
Budget
US$17 million
Box office
US$213.5 million
Behind the scenes
Producer
Bill Kong

Hsu Li-kong

Ang Lee

Production companies
Asian Union Film & Entertainment Ltd. (Chinese company)

China Film Co-Production Corp.

(Chinese company)

Columbia Pictures Film Production Asia

(United States company)

Edko Films

(Hong Kong company)

Good Machine International

(United States company)

Sony Pictures Classics

(United States company)

United China Vision

(Chinese company)

Zoom Hunt Productions

(Taiwanese company)

Director
Ang Lee
Screenplay by
Wang Hui-ling

James Schamus

Tsai Kuo Jung

Based on
The novel Crouching Tiger, Hidden Tiger by Wang Dulu
Music by
Tan Dun
Cinematographer
Peter Pau
Edited by
Tim Squyres
Distributed by
Sony Pictures Classics
Starring
Chow Yun-fat
Michelle Yeoh
Zhang Ziyi
Chang Chen
Sihung Lung
Cheng Pei-pei
Critical response
Crouching Tiger, Hidden Dragon recived highly favorable reviews, and holds a 97% positive rating on Rotten Tomatoes review aggregator.
Some Chinese-speaking viewers were bothered by the fact that several of the main actors did not speak accent-free Mandarin. Chow has Cantonese as his first language, Yeoh was born and raised in Malaysia and thus speak with a Malaysian accent, Chang Chen speaks with a Taiwanese accent, and Zhang Ziyi speaks the Beijing dialect.
Listings
The film is included in:
Empire's 2008 list of the 500 greatest movies of all time.
Empire's 2010 list of the 100 Best Films of World Cinema.
Independent Film & Television Alliance's 2010 list of the 30 Most Significant Independent Films of the last 30 years.