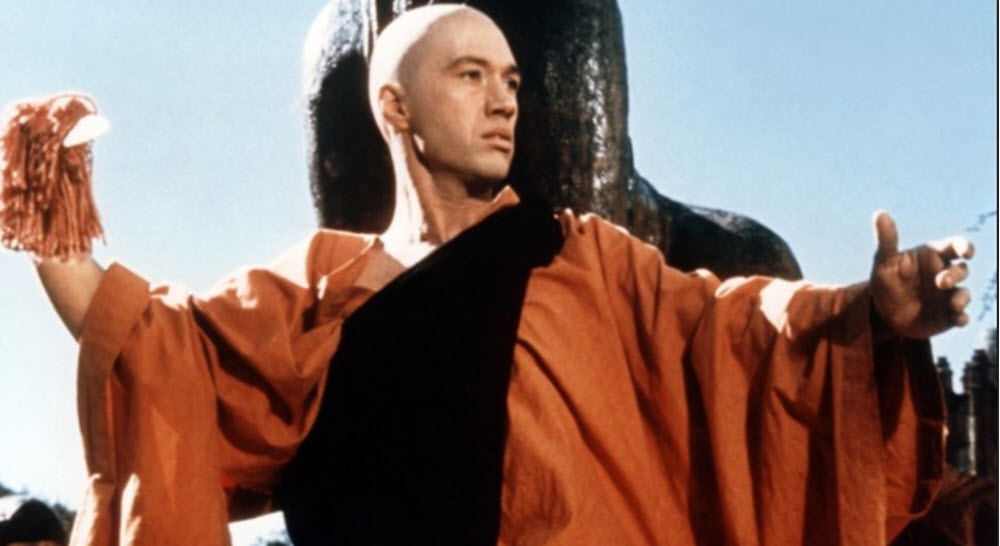 Kung Fu is a United States action-adventure martial arts drama set in the American Old West.
It follows the journey of Kwai Chang Caine, Shaolin priest looking for his dead American father's family after being forced to flee China.
The series starred David Carradine in the role of adult Kwai Chang Caine. Radame Pera played the young Chaine in flashback scenes, with Keye Luke and Philip Ahn as the young Caine's Shaolin martial art teachers Master Po and Master Kan.
Aired on ABC in 1972-1975, for a total of 63 episodes, Kung Fu became one of the most popular television programs in the U.S. During the early 1970s, receiving both commercial success and critical acclaim.
The series included a lot of Chinese aphorism from Tao Te Ching, a book of ancient Taost philosophy. This Chinese classic text has traditional been credited to the sage Lao-tzu who lived in China in the 6th century AD, although some parts of the text are now believed to be even older.
Awards
The episode An Eye for an Eye won two Emmy Awards in 1973; one to Jerry Thorpe in the category Best Director and one to Jack Woolf in the category Best Cinematography.
The episode King of the Mountain won a Writers Guild of America Award in 1973, to Herman Miller for Best Drama.
Plot
Kwai Chang Caine grows with his maternal grandfather in mid-19th century China. His Chinese mother Kwai Lin and his United States father Thomas Henry Caine are both dead. When the grandfather also dies, the young Caine is accepted for training at a Shaolin Monastery.
In the pilot episode, Caine's Shaolin mentor and elder, Master Po, is murdered by a nephew of the Emperor. Caine, who is now an adult Shaolin priest and martial arts expert, retaliates by killing the murderer. To avoid being executed for killing the Emperor's nephew, he flees to the United States, where he intends to look for his father's family and connect with his paternal roots.
Throughout the series, Caine's Shaolin training and sense of social responsibility frequently gets him into trouble, since he feels a duty to intervene to help people even when it goes against his desire is to keep a low profile.
The series frequently employs flashbacks from Caine's youth in China, often in the form of specific lessons learned in the Shaolin temple, and they tend to involve Master Po and Master Chen Ming Kan. Master Po calls his young student "Grasshopper" in reference to a scene in the pilot episode:
Master Po: Close your eyes. What do you hear?
Caine: I hear the water, I hear the birds.
Po: Do you hear your own heartbeat?
Caine: No.
Po: Do you hear the grasshopper which is at your feet?
Caine: Old man, how is it that you hear these things?
Po: Young man, how is it that you do not?
Trailer
Greed
A returning theme in Kung fu is people who are corrupted by creed.  People who seem good in the beginning of the episode might turn out to be corrupted before the end. A Famous episode shows a free and wealthy black man getting molested when he arrives in a new city.  He is helped by Kwai Chang Caine but the mans true colors is revealed later in the episode when he is willing to do anything to retrieve a diamond . A diamond the black man had himself stolen.   The series show that the victim in one situation might be the oppressor in another.
The theme of evil businessman, stock traders, day traders and businessmen is even more prevalent in Kung Fu: The Legend Continues.  The follow up series set in Modern day New York.   In this environment Kwai Chang Caine and his son is surrounded by greedy people who have lost their path.  Some of these stock traders, Forex brokers and businessmen are able to be show the other way.  Other are true villains of the show that has to be defeated.  You never know if the next episode is going to feature an ancient Asian evil,  a FOREX trader or a drug dealer as the main villain.
Basic info
Name
Kung Fu
Genre
Action

Adventure

Western

Drama

Language
English
Network
ABC
First aired
October 14, 1972 – April 16, 1975
Number of seasons
3
Number of episodes
63
Running time
50 minutes
Camera setup
Single-camera
Audio format
Monaural
Behind the scenes
Production company
Warner Bros. Television
Executive producer
Jerry Thorpe
Created by
Ed Spielman

Jerry Thorpe

Herman Miller

Distributor
Warner Bros. Television
Main cast
| | |
| --- | --- |
| Actor | Role |
| David Carradine | Adult Kwai Chang Caine |
| Radames Pera | Young Kwai Chang Caine |
| Keye Luke | Master Po |
| Philip Ahn | Master Kan |
Miscellanous
The TV-series was preceded by a full-length (90 minutes, with commercial breaks) feature television pilot that aired as the ABC Movie of the Week on February 22, 1972.
The show had its own kung fu advisors: David Chow and Kam Yuen. Both of them were also guest stars in the series, and Yuen did stunt work for Keye Luke who played Master Po.