Kung Fu Cash is a powerful martial arts themed slot game that packs a lot of action. There is a randomly triggered jackpot to hope for, which adds an extra level of excitement. The reels are set in a dojo, complete with tatami mats and folind rice paper screens.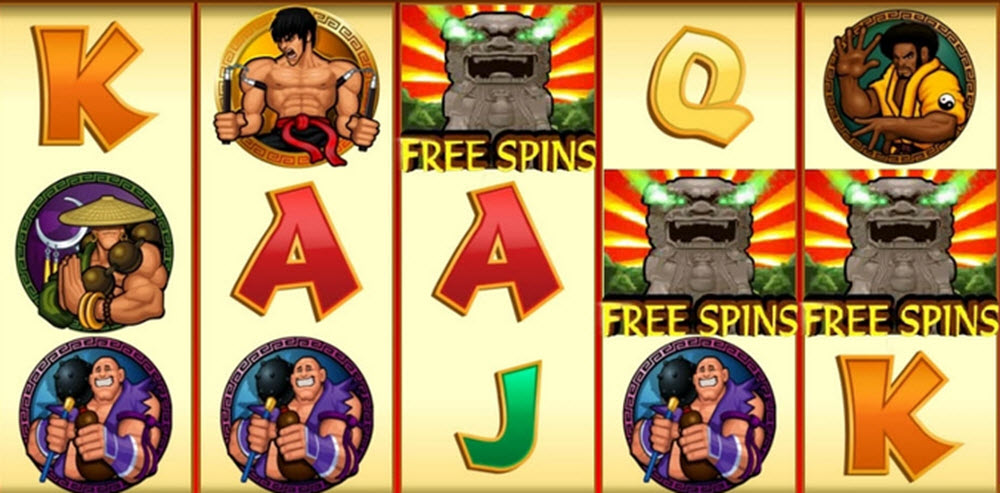 This game features nine different weapons – of varying potency. There are also some seriously skilled martial arts characters that can show up on the reels. Kung fu cash was developed by Microgaming.  Microgaming is a large well known brittish game developer.  You can find Microgaming slots in a very large selection of different casinos.
Examples of low-pay symbols are the Yin Yang symbol, the throwing stars, the sword, and the spike. Examples of high-paying symbols are the knives, the nunchaku, the black belt, and the crocodile. There is also three special symbols: Free Spins Monkey, Wild Bear, and Bonus Bunny.
Reels
Kung Fu Cash has 5 reels.
Paylines
This slot comes with 20 paylines. You decide how many of them to activate, from just 1 to all 20.
Wagering
Decide how many paylines to activate (1-20).
Adjust the coin value.
Select how many coins to bet per active payline.
Autoplay
Autoplay is available.
Wild Bear
The Wild Bear can pay out big money in his own right, but is also a wild symbol that can substitute for any of the regular symbols (but not for special symbols, i.e. free spins monkey and bonus bunny).
Free Spins Monkey
The martial arts monkey is a scatter symbol that can hand out coins and free spins. Get enough scatters and you will be awarded with 13 Free Spins. During free spins, a 3x win multiplier applies.
Bonus Bunny
The Bonus Bunnies is your key to the exciting Kung Fu Cash Bonus Game, where you can win up to 1,000 coins.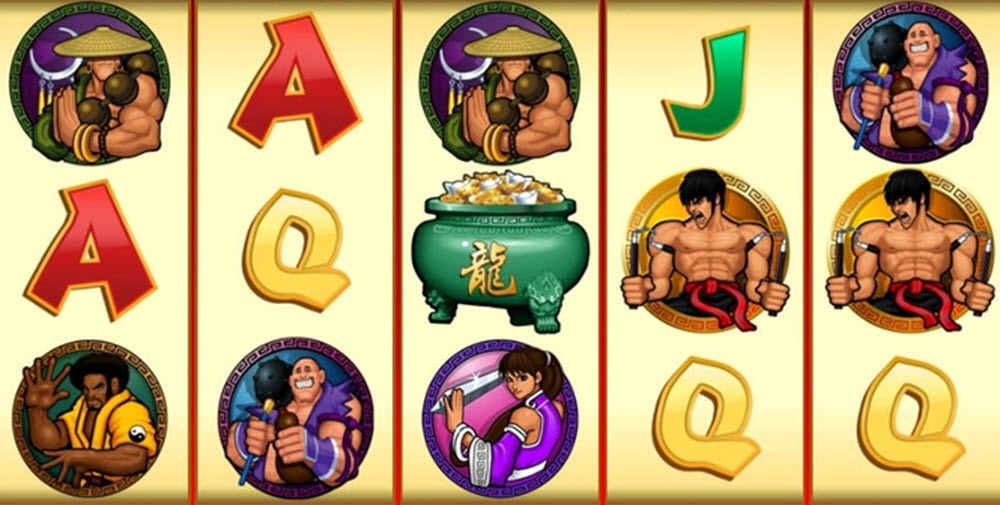 Did you know….?
The rabbit is an important animal in traditional Chinese culture and legends, and one of the twelve animals in the Chinese zodiac is a rabbit. The Chinese zodiac is a classification scheme were an animal is assigned to each year in a repeating 12-year cycle. This 12-year cycle is an approximation to the 11.85-year orbital period of the planet Jupiter.
There is also the legend of the Moon Rabbit, also known as the Jade Rabbit. This is a notion based on pareidolia interpretations of the markings that can be seen when we watch the moon. Just like some cultures talk about seeing the "Man in the Moon", Chinese culture has a "Moon Rabbit". In Chinese folklore, the Moon Rabbit is typically described as standing on its hind legs, pounding with a mortar and pestle. He is considered a companion of the Moon goddess Chang'e and is pounding the elixir of life for her.